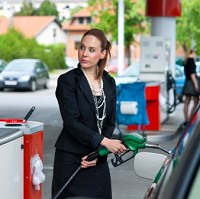 Audi has set up a new fuel finder service for its European Audi A3 range, supplying information about the cost and whereabouts of the best value fuel stations.
A feature of the German manufacturer's Audi connect system, Refuelling Stop, accesses an online database of the cheaper fuel stations near the car's location or scheduled destination, or at a chosen place. Motorists can view the fuel stations according to cost or accessibility.
When a fuel station has been chosen, the location can be sent to the car's sat-nav to make getting there easy.
Audi reports that the service for the recent A3 range also takes fuel type into account, discriminating between vehicles using petrol and diesel.
The Audi connect system includes a variety of applications that link Audi vehicles to their drivers, the internet, fuel stations, other vehicles, and traffic information.
To use the system drivers need Audi's MMI (Multi Media Interface) Navigation with online Bluetooth phone connectivity or the complete Audi connect option in A3 models.
The Refuelling Stop service will feature in all models with Audi connect starting in May.
Copyright Press Association 2013