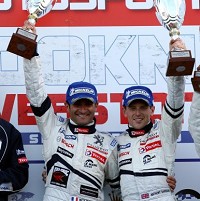 Audi's number two car came from behind to clinch the manufacturer's 12th Le Mans 24 hours race victory in the space of just 14 years.
And with the team's number one car three laps behind in second place it was a one-two finish for Audi.
But the winners - Andre Lotterer, Marcel Fassler and Benoit Treluyer - had to work hard for their victory, which saw them complete 379 laps, having gone into the weekend slower than their rivals from Toyota.
The Japanese manufacturer's team of Sebastien Buemi, Britain's Anthony Davidson and Nicolas Lapierre took third place following an early bump.
Their sister car had been out in front during the first half of the endurance event only to have their chances scuppered by an early morning electrical fault.
Porsche also looked to be mounting a challenge at one stage but the Audi cars showed the most consistency to take first and second places on the French circuit.
Copyright Press Association 2014