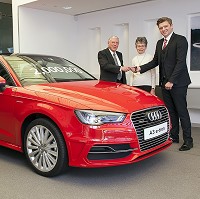 A German manufacturing giant is celebrating a sales landmark this week, nearly 50 years after its formation.
Audi sold its two millionth motor on Tuesday, February 10.
This is a far cry from its first year of trading, 1965, when it shipped only 32 units. Back then, it only had one vehicle available: The Audi compact executive.
Today motorists buying a car from the Audi range are spoilt for choice. They have 51 models to pick from, from subcompact vehicles to get them around the city or 10-cylinder supercars.
The latest addition to the Audi stable is the new A3 Sportback e-tron. Its debut plug-in hybrid was the landmark two-millionth car to be sold.
The firm's sales curve is on an upward route - it first surpassed 100,000 yearly sales in 2007, en route to recording 158,987 deliveries last year.
These are both huge hikes on its 1991 UK performance of just 14,344 motor sales, since when it has enjoyed a sales strength seemingly resistant to recession.
Copyright Press Association 2015