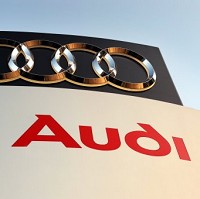 A survey of the nation's driving habits suggests that Audi drivers are the biggest culprits when it comes to bad parking.
Mercedes and Mazda drivers took second and third position for worst parking after online firm StressFreeAirportParking.com carried out an analysis of 8,000 parked cars in February.
The company's analysis was based on a per capital calculation of how many cars of each brand were on the roads, with Audi drivers coming significantly ahead of the rest in the table of shame.
Whether motorists will take the findings as a warning to be extra careful when navigating car parks remains to be seen, with a more cautious approach perhaps paying dividends in the long run due to a lower risk of damage and car insurance claims.
Around one in every four (24%) Audi cars was parked badly, according to the study, while 16.6% of Mercedes drivers and 14.3% of Mazda drivers were also said to be culprits.
The best performing brand was Land Rover, with just 2.6% of owners showing inadequate parking skills.
By category, small family cars came out worst of all in the parking stakes, followed by vans and superminis.
Black (29.6%) cars were more likely than others to be badly parked, followed by silver (27%), blue (15.1%), white (11.9%) and red (5%).
Copyright © Press Association 2013