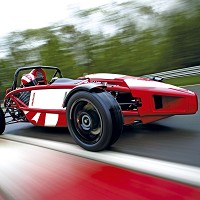 The Ariel Atom ultra-light supercar will be the featured vehicle for the Atom Cup - a series of races in the UK organised by Atomic Race Management and the Ariel Motor Company.
Silverstone and Brands Hatch will be two of the venues during eight race weekends at Britain's premier circuits. The Atoms will feature full race specifications for the Atom Cup and are manufactured and assembled by the Ariel Motor Company in Somerset.
The Atom is recognised for its lightweight design and minimal bodywork but it does have an impressive power to weight ratio - this is better than many supercars.
The race Atoms will be 'Cup Spec' models and these will have chassis built for competition. The cars will also feature Ohlins suspension, race instrumentation and roll over protection.
Yokohama will supply the control tyres while engines, dampers and ECU will all be sealed. The races will be supported by Honda and all the cars will feature the 2.0 Honda Type R iVTEC engine.
Honda UK's Paul Ormond said: "We are very excited by the opportunity to support this new Series. Competition has always been at the heart of Honda and the Atom Cup should provide some excellent and exciting racing."
Copyright Press Association 2012