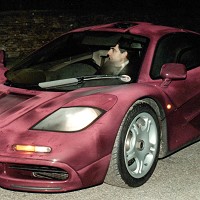 Comedian Rowan Atkinson has put his F1 McLaren super car up for sale - though the price tag is likely to be no laughing matter.
Car fans will need to have a substantial bank balance to afford the vehicle owned by the Mr Bean actor.
Even the repair bill for the car was reportedly around £1 million when the star crashed a few years ago, the highest recorded in the UK at the time.
The super car spun around several times and hit a tree and a lamppost when he crashed in Cambridgeshire in 2011.
For those with a lot of cash to splash - or people who may be interested in the car's vital statistics - it has 41,000 miles on the clock and can reach 240mph.
However, it is unlikely to have approached its top speed very often as Atkinson revealed he mainly used the McLaren for a trip to the shops or the school run.
Copyright Press Association 2015