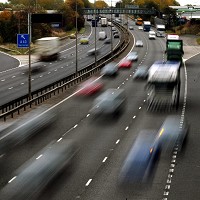 The number of fatalities and serious injuries involving people who drive or ride motorcycles as a part of their job are a significant road safety concern for Britain, according to a new report.
The Transport Research Laboratory (TRL) and the UCL Centre for Transport Studies have written a Strategic Review of the Management of Occupational Road Risk, on behalf of the Royal Society for the Prevention of Accidents (RoSPA).
It is designed to help employers assess and deal with the risks incurred by driving at work.
Over the last eight years, crashes involving people driving for work purposes account for 4,726 deaths and around 40,000 serious injuries. Most of the casualties were not employees.
In 2012, a total of 87 employees were tragically killed in such accidents, compared to 422 other people.
Among the review's key recommendations is the need for work-related road safety to be considered in the same level of importance as health and safety.
The need for better recording and publicising of accident data by both the police and the Health and Safety Executive (HSE) was also flagged up.
The review also urged examination into a variety of ways of managing occupational road risk to determine which are the most effective.
Copyright Press Association 2014