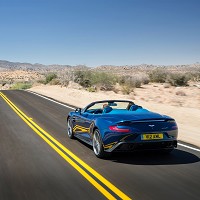 Boasting great looks and dynamic performance, the new Vanquish Volante from luxury automaker Aston Martin looks set to be a hit.
It is a drop-top take on the high-performance GT and the pinnacle of the range, using the same 6.0-litre V12 engine as the coupe. This means it can go from 0-62mph in just 4.1 seconds, accelerating all the way to a top speed of 183mph.
The Vanquish Volante is the first fully carbon fibre-skinned Volante in the British brand's proud 100-year history, while it also has the stiffest Volante body structure to date.
It features a triple-skin lightweight fabric roof that takes only 14 seconds to fold, not to mention the very latest technologies which make the sports car easy to control and enhance the overall driving experience.
First deliveries of the Vanquish Volante are expected to begin in the UK and Continental Europe late in 2013, with prices starting from £199,995.
As the new sports car is the very definition of luxury, lucky owners will want to give it the best possible protection by taking out comprehensivecar insurance .
Copyright Press Association 2013