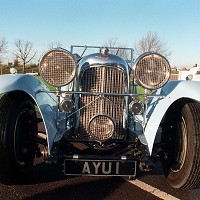 Thrilled Aston Martin fans may soon be able to get their hands on a new version of one of the company's most iconic cars.
The luxury maker announced plans to bring back the famous Lagonda name, adding that it will be available from early next year by invitation only.
The new super saloon, inspired by the classic 1976 model, is to be hand-built at Aston Martin's site in Gaydon, Warwickshire.
It is not yet known how much the new model will cost, but the firm said the price will be in line with the Lagonda's "exclusivity, quality and luxurious nature".
Marek Reichman, design director at Aston Martin, said the new version will be a piece of "exceptional automotive art", and its launch will be a truly exciting moment for customers looking for luxury and personalisation.
He added that the updated Lagonda has been designed with the "spirit and ethos" of earlier models - such as the William Towns Lagonda - in mind.
Copyright Press Association 2014