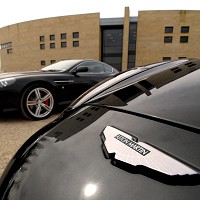 The car manufacturer Aston Martin has extended its influence in India by opening a new four-car showroom in the country.
It is located in the upmarket New Delhi suburb South Delhi, covering a total of 13,000 sq ft. On site there is also an approved service centre in order to provide customers in the area with everything they need.
There will be no shortage of choice as the showroom will offer a vast array of models including the V12 Vantage, Vantage S (Coupe and/or Roadster), V8 Vantage Coupe, V8 Vantage Roadster, DB9 Coupe, DB9 Volante, DBS Coupe, DBS Volante and the four-door sports car Rapide.
The dealership, in partnership with Select Cars, enhances the Warwickshire firm's expansion programme in the region that began in April last year.
Aston Martin's global sales director, Andy Gawthorpe, referred to Select Cars as the "right long-term business partner" for the UK company, stressing he was looking forward to building a "successful relationship" with it.
Yadur Kapur, executive director at Select Cars, said: "We are sure this iconic brand will provide the Indian audience with an unparalleled driving experience."
Copyright Press Association 2012