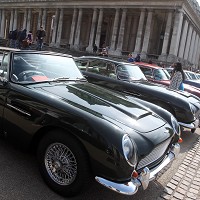 Motoring icon Aston Martin has kicked off the new year by introducing its latest influx of apprentices at its global HQ in Warwickshire.
Recent weeks have seen 12 new apprentices start work with Aston Martin at the Gaydon facility, with a further two clay modelling apprentices beginning this month.
Aston Martin receives in excess of 600 applications for its apprenticeship scheme each year, making the positions among the most sought-after in the automotive industry.
Maggie McElroy-Gray, manufacturing training manager at Aston Martin, said that there are now almost 40 apprentices in the latest scheme, and that this represents a significant investment in the future of the company.
Ms McElroy-Gray praised the apprenticeship scheme and the young people who have secured a role.
She said that "young blood" is vital to Aston Martin and it is important that the workforce's extensive skills and knowledge are passed on to the staff of tomorrow.
Copyright Press Association 2015