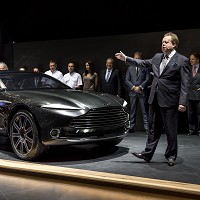 A classic English car-maker seems to have ripped up its own rulebook with its new sports utility vehicle (SUV) concept model.
Aston Martin's DBX concept has both stunned and divided the motoring world.
Motorists buying a car from the Aston Martin stable will notice marked differences from its usual look.
A far bigger grille, sharp-cornered, slender LED headlights, a much higher ride and exaggeratedly large wheels help lend the DBX a somewhat sinister appearance. Some critics say it looks like something out of a science-fiction comic book superhero movie.
Andy Palmer, Aston Martin's CEO, called the new concept "revolutionary" rather than sci-fi. Dr. Palmer confirmed it will be available for sale in the time ahead.
The iconic Geneva Motor Show's (March 5-15) pre-event showcase has been the unveiling ground for this new concept.
Industry experts believe it could answer criticisms of "stagnation" within the brand and help to out-muscle rivals such as Porsche's Cayenne and Range Rover's Sport.
Copyright Press Association 2015