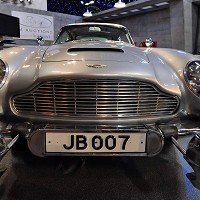 Aston Martin may still be the coolest carmaker in the UK but it has been overtaken by Apple as the country's coolest brand.
The British sports car manufacturer has been in top spot in the CoolBrands survey for six of the seven years it has been carried out, but now Apple and YouTube, which finished second, have surpassed it.
Ferrari and Maserati both dropped out of the top 20 completely this year and Aston Martin's only competitor in terms of car brands was Mercedes-Benz, which came 16th. And the German firm's communications director is delighted that others see it as cool.
"I think by its very nature, coolness is in the perception of others. I think that cool things have a certain style, elegance and swagger about them," said Rob Halloway.
"Cool people possess all these qualities, and cool brands blend a timeless quality with absolute topicality."
The results of the CoolBrands poll were based on the views of a panel of 39 experts and the opinions of 3,000 consumers and the findings show just how much Mercedes has improved its appeal among younger buyers in the recent past.
Copyright Press Association 2012