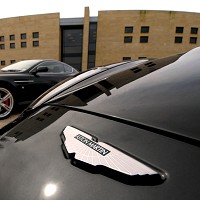 A unique Aston Martin is set to fetch between £2.8 million and £3.8 million when it goes under the hammer at auction later this year.
Nicknamed The Jet, the 1960 classic was the last DB4 GT to roll off the production line and is the only one of its kind boasting coachwork by top Italian design house Bertone.
A young Giorgetto Guigiaro, who became a famous car designer, was responsible for the design work after Bertone was commissioned to build a special Gran Turismo version of the model to be premiered at the 1961 Geneva motor show.
The DB4 GT has been fully restored and is due to be auctioned by Bonhams at a sale at the Aston Martin Works in Newport Pagnell on May 18, when it is expected to be sold for at least £2.8 million.
The car's late owner bought The Jet in 1986 and, having had it restored, saw it go on to scoop a dozen awards at classic car events such as Pebble Beach and Villa D'Este.
Copyright Press Association 2013