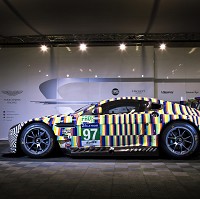 Aston Martin's new psychedelic Le Mans 24-Hour race entry is so bright that rival competitors could be forgiven for wearing sunglasses.
The UK-based racing team's latest livery is on show this weekend at the iconic French endurance contest.
The Tobias Rehberger-designed Aston Martin Vantage GTE aims to give it an illusion of speed and motion, even when still.
The Gulf-backed machine benefits from German Rehberger's vision to encapsulate the flavour of Le Mans as its theme.
The 49-year-old aimed to come up with an eye-catching design which drew on geometric patterns and shapes to give the impression of movement.
The dazzling livery will be seen during the round-the-clock race, which begins this Saturday (June 13) at 3pm.
Its outing will commemorate three decades since Le Mans first showcased its debut art car.
Rehberger said that optical effects, visual confusion, camouflage and moving auto patterns all influenced the end product.
Some of his previous works have borrowed from these and his latest effort continues to draw on his fascination with distorted perceptions and connected phenomena.
Rehberger challenged people to try and fix their stare on just one part of his Vantage GTE's pattern.
This would not be possible, he claimed, because the effect is so comparable to fast objects.
He said his design was based upon geometric optical impact patterns.
Rehberger's wizardry is not lost on the car's driver, Darren Turner, who is a big fan of art cars.
Turner said he loved the new design, saying that it pushed back the borders of what has gone before and questions how people use different hues and patterns in racing car liveries.
Multi award-winning abstract artist Rehberger can claim the Venice Biennale's prestigious Golden Lion in 2009 among his many honours.
Le Mans is the planet's oldest still-active endurance sports vehicle race, at 92 years-old.
The event's iconic status was further cemented by a film of the same name in 1971. Screen legend and car enthusiast Steve McQueen played 1970 event driver Michael Delaney.
Copyright Press Association 2015