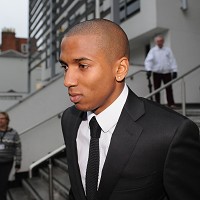 An England international footballer has had a fine for speeding cut after it emerged that sentencing magistrates had overcharged him.
Ashley Young, 28, who plays for Manchester United, had been fined £3,000 and given a six-month driving ban after being caught at 71mph during ajourney on a 50mph section of the M6 Toll motorway in Warwickshire last March.
However, he will now be fined half that amount, following an error by the presiding bench.
Young was given four penalty points after the hearing before Leamington magistrates, taking him over the limit and earning him a ban. The court later heard an application to reopen the case on the basis the fine had been administered incorrectly. Court adviser Peter Owen told chairman of magistrates Ann Homan that she should consider the application after the bench's error.
He said that the maximum fine should have been £2,500, but the guideline was that it should not be more than 75% of the maximum - meaning it should have been £1,875. A guilty plea by the footballer should also have been taken into account, he said.
Young - who had previously been convicted of speeding at 100mph on the M62 in West Yorkshire - had nine points on his licence prior to the hearing.
He will have to apply for a new licence from the DVLA once he has served out the ban.
Copyright Press Association 2014