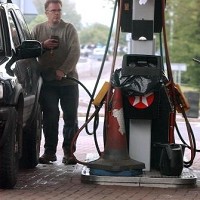 Motorists could once again see fuel costs falling towards £1 a litre, the RAC has suggested.
This follows Asda's move to slash its unleaded prices by 2p a litre.
Experts think this could spark a possible supermarket price war on fuel - less than a fortnight after the last one.
Asda says that consumers face new maximum costs of 109.7p a litre at its 272 forecourts.
Rod Dennis, RAC spokesman, said: "It is welcome news that all motorists are now benefiting from the plummeting price of oil.
"Brent Crude is now nearly 25% cheaper than it was two months ago, and is just half a dollar from being at its lowest price all year.
"This, combined with a relatively strong pound against the dollar, is a recipe for lower prices at the pumps - and that is something that is now benefiting drivers of petrol as well as diesel vehicles.
"The reason we've been slower to see unleaded price cuts is because the wholesale price of petrol - the price retailers buy the fuel for - has not fallen at the same rate diesel has."
Mr Dennis added: "Diesel has been on a steady downward path since the start of May, driven by increased capacity from Asia, but the same cannot be said for petrol.
"If the conditions stay right, we could see some even lower prices in a few weeks as people return to work after the summer and the school run begins again.
"And if Brent Crude were to move to the 40 dollars (£25.49) per barrel mark, the prospect of some enterprising retailers selling fuel for £1 per litre will make a return."
Copyright Press Association 2015