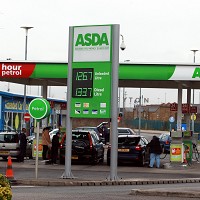 Motorists filling up their tanks before heading off on holiday this summer could find some extra money left over for an ice cream, after Asda sparked a likely fuel price war on Monday.
The move comes amid a strengthening pound against the dollar, which Asda said meant it could offer some of the cheapest fuel prices in years.
By cutting up to 2p a litre off fuel prices, the supermarket chain is taking them to levels last seen at the beginning of 2011.
It prompts speculation that other supermarkets will follow suit.
The move has been welcomed by motoring organisations, which hope the cuts will be of benefit to drivers struggling to keep their cars on the road as they balance the household budget.
RAC fuel spokesman Simon Williams said: "The combination of the strengthening pound and the fact that tensions in both Ukraine and Iraq have not caused supply issues means wholesale prices have begun to ease.
"The impact of the shale oil extraction in the US is also causing global oil prices to reduce due to more product becoming available in the market which in turn reduces reliance on importing oil from the Middle East.
"But falling wholesale prices don't always lead to cheaper forecourt prices so it's good news for motorists that this reduction is being passed on so quickly at the pumps. Cheaper fuel is good for individual motorists, businesses and the economy."
Copyright Press Association 2014