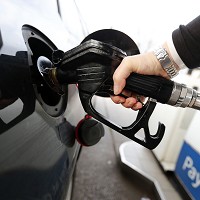 Asda has shaved a further 2p per litre off the price of diesel as oil prices continue to fall.
Diesel owners can now fill up at the supermarket's forecourts for 97.7p per litre, while petrol remains at 99.7p per litre.
By slashing the cost of diesel once again, Asda claims to be the first retailer to take diesel to its lowest price level in over six years.
RAC fuel spokesman Simon Williams says: "We would have liked to have seen a cut sooner, and one that goes further, to more closely reflect the price retailers have been buying diesel for, but this is nevertheless good news for motorists. Diesel has been sold on the wholesale market for less than unleaded petrol since early last month, yet drivers have had to wait more than six weeks for this to be only partially reflected at the pumps.
"The wholesale falls are driven by a world currently awash with oil, which dropped to just $26 a barrel this week, a 75% decline from its $115 high 18 months ago. This turned up the heat on the supermarkets and big fuel retailers to cut the price of diesel. Data from RAC Fuel Watch suggests however that the pressure on prices remains, and we believe there is further scope for between 1p and 2p to come off the price of a litre of diesel within the next fortnight. There remains a 5p gap between the wholesale prices of both fuels.
"Nonetheless, we expect this latest price cut to be the trigger for the UK seeing the average price of diesel being sold on forecourts falling below the £1 mark - something that hasn't happened since the end of March 2009."
Oil prices have plummeted by 30% since early December, something which has led to a reduction in d iesel and petrol prices nationwide.
But campaigners believe motorists are being denied even larger savings on diesel because of increased profits in the supply chain, claiming d iesel should be at least 3p per litre cheaper than petrol.
Research by FairFuelUK shows oil prices in sterling have fallen by more than 54% since last May, yet retailers have cut pump prices by just 35%.
The report claims that retailers' profit margin for diesel is 11p per litre compared with just 5.8p litre for petrol.
Copyright Press Association 2016. Motoring News articles do not reflect the RAC's views unless clearly stated.