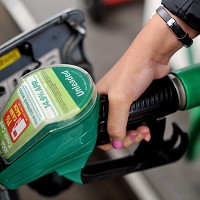 Asda is slashing 4p a litre off the price of petrol for three days but insists it is not participating in Black Friday.
Unleaded will be 99.7p at the retailer's forecourts until midnight on Sunday - the first time in six years that petrol prices have fallen below £1 a litre.
Diesel will be 103.7p, before reverting to its former price of 106.7p.
"Due to the latest dip in the crude oil price we had predicted that the most price-competitive fuel retailers would soon be selling petrol for £1 so it is great to see that landmark price is now available across the country at the most expensive time of year," says RAC Fuel Watch spokesman Simon Williams.
"Even though this promotion only lasts for three days it will help to bring prices down at forecourts nationwide. While we are some way from seeing the average petrol price reach £1, prices at more and more retailers should be getting ever closer to that figure.
"RAC wholesale fuel data shows there is still scope for retailers to reduce prices further, especially for diesel."
May 2009 was the last time the average national petrol price was below £1. It peaked at 142p in 2012, while diesel reached 147p.
Unleaded currently averages 107.8p across the country. Diesel is 110.1p.
Instead of getting involved in the Black Friday sales, which caused ugly scenes at its stores last year, Asda has decided to cut prices of goods and fuel over several weeks in the lead-up to Christmas.
Copyright Press Association 2015. Motoring News articles do not reflect the RAC's views unless clearly stated.