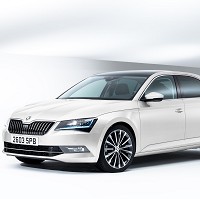 A Czech Republic car giant has stayed faithful to its proven recipe for success in upgrading a popular family vehicle.
Skoda's new-gen Superb, which is likely to hit UK roads this autumn from just under £19,000, was unveiled at the Geneva Motor Show.
The March 5-15 showcase proved that Skoda fans buying a car on a budget shouldn't notice much change in the new Superb model. Evolution is Skoda's watchword on this revamp with its spacious cabin and slick design progressing naturally.
But while it is bigger than its forerunner, it also comes in lighter too - by a maximum of 75kg (11st 11lbs) - thanks to its state-of-the-art MQB build.
The latest version is 28mm (1in) longer plus 47mm (2in) wider than before, at 4,861mm (15ft 11ins) long by 1864mm wide (6ft 1in).
Its 2841mm (9ft 3in) wheelbase is now 80mm (3ins) longer, also enabling more space.
The new Superb boot grows by 30-litre capacity to 625 litres. This expands to 1,760 litres when its rear seat are folded. The car remains slanted towards diesel fuel.
Copyright Press Association 2015