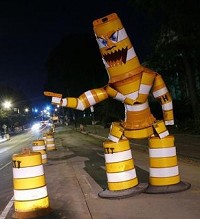 An artist in America has been arrested after stealing three traffic barrels to create a roadside sculpture.
Joseph Carnevale, who is 21 from North Carolina, created a 10-foot monster thumbing a lift out of three orange and white construction barrels. The artist claimed that he was producing a work of art by cutting up the barrels, however police claimed that it was vandalism and Carnevale was arrested.
The artist is due to appear in court charged with larceny and destruction of property both misdemeanours.
Since the arrest and the publicity the 21-year history major and part time construction worker has become a local celebrity, and acquired an online following with hundreds of supporters asking for his charges to be dropped.
Carnevale said: "It's surprising how many people have called attention to it."
Hamlin Associates, the construction company that the barrels were stolen from have since requested that Carnevale create a replica of the 10-foot monster for them.
Copyright © Press Association 2009