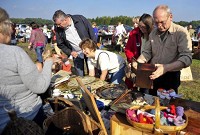 A £13 swap at a car boot sale may have bought an antiques dealer a 900-year-old artefact from an ancient order of knights.
Martin Roberts traded a chest of drawers and a set of Victorian glass handles which he bought for £13 for the 10-inch long ornately-decorated piece of wood.
Valuers at Christie's are trying to establish exactly what the artefact is, but suggestions include part of a Knights Templar tabernacle - a box for carrying sacred items - or an early Orthodox church artefact from well over a thousand years ago.
The artefact was found by a friend of Mr Roberts in a house clearance in the North Yorkshire market town of Masham - a place believed to be connected with the Crusades and the Knights Templar. Mr Roberts made the swap with his friend at an Otley car boot sale, and agreed to give him 10% of the artefact's sale value.
Mr Roberts said: "Maybe it will prove they brought the Holy Grail to Yorkshire."
Copyright © Press Association 2009