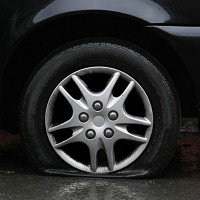 Two men have been arrested on suspicion of criminal damage after almost 100 vehicles were damaged in a vandalism spree in Swindon.
Wiltshire Police confirmed the two men were arrested late on Friday 22 February after receiving 90 complaints from motorists - many of whom had all four tyres slashed or their cars scratched.
The attackers targeted vehicles on several residential streets between Swindon town centre and Old Town in the early hours of Thursday 21 February.
The widespread destruction prevented dozens of motorists from travelling into work the next day and forced many victims to submitcar insurance claims to cover the damage.
Police were able to make the arrests after studying CCTV footage to try and identify the culprits and have bailed the men pending further enquiries.
The leader of Swindon Council has also teamed up with the Police and Crime Commissioner to offer a £500 reward for information that leads to a successful criminal conviction.
Anyone with information can contact Wiltshire Police on 101 or, if they wish to remain anonymous, Crimestoppers on 0800 555 111.
Copyright Press Association 2013