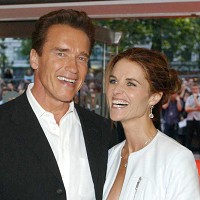 The wife of California governor Arnold Schwarzenegger is facing "swift action" after she was pictured breaking a law that Schwarzenegger himself had signed on - using a mobile phone while driving.
Two photographs of Maria Shriver were published by website TMZ.com, in which the author was pictured holding a phone to her ear while sat behind the wheel. One was taken last week, and another back in July.
A video has also been added, which shows another incident of Shriver driving a large Cadillac while using a phone, which she drops while the camera is rolling.
The California first lady's office refused to comment on the pictures, but on his Twitter feed, Schwarzenegger wrote to TMZ.com founder Harvey Levin: "Thanks for bringing her violations to my attention. There's going to be swift action."
However, his spokesman Aaron McLear said that by "swift action" the Terminator actor meant he would ask his wife not to hold the phone while driving. The ban on using handsets while driving took effect in July 2008 and requires drivers to use a handsfree device when talking on mobile phones.
In Los Angeles County, where the Schwarzeneggers live, the superior court has set the fine at about £58 for the first offence and £126 for the next one, meaning Shriver would owe at least £184 in fines and court fees had she been caught by police.
Copyright © Press Association 2009