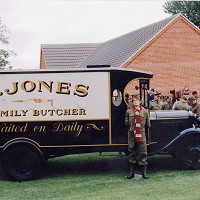 Dad's Army fans will be marching to the auction house when a van made famous by the BBC sitcom goes under the hammer.
The Ford Box Van, made in 1935, has an expected price tag of between £20,000 and £30,000, so those hoping to buy will require plenty of financial ammunition.
Owned by Clive Jones' character Lance Corporal Jones, the van began its service as a butcher's van, then moved on to ferry the Walmington-on-Sea Home Guard platoon around.
It'll be a case of 'Don't panic, Mr Mainwaring!' when the hammer comes down at the Bonhams auction on December 3, because other lots will be available if this one whizzes past you.
The van is part of a classic 19-vehicle collection, which will all be sold in Weybridge, Surrey, at Mercedes-Benz World Brooklands.
Other cars in the collection include a 1931 Invicta 4.5-litre S-Type Low Chassis Tourer, which is estimated to net a cool half a million pounds, at least.
A 1938 Jaguar SS100 3.5-litre Sports Two-Seater is expected to field bids of £220,000 to £280,000.
The vehicles form part of a third instalment set to be auctioned off, and are part of the Patrick Collection, which was previously housed in a private Birmingham museum.
Lance Corporal Jones's van was bought by Patrick Motors Ltd, a Midlands family business, once Dad's Army shot its final episode.
Copyright Press Association 2012