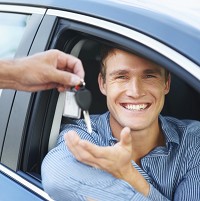 The motor industry recorded its best April new car sales performance since 2008 this year, according to the Society of Motor Manufacturers and Traders (SMMT).
A breakdown of the latest SMMT data shows 163,357 new vehicles were registered last month, a 14.8% rise on the figure for the same month last year and the largest growth in more than a year.
The results have forced the society to lift its yearly forecast to 2.106 million registrations, 3% more than last year's total, but still 300,000 short of the market's performances before the recession. It now predicts 2.123 units will be sold in 2014.
It is thought that the March plate-change drive added to April's figures, with extra demand for some models and Easter's early arrival this year.
The number of private registrations was also higher year-on-year in April, boosted by nearly a third (32.3%), while the fleet and business markets saw 1,098 more registrations.
The near-15% rise did come during a month that saw more sales days than the previous April, but the new car market is still surprisingly robust, SMMT interim chief executive Mike Baunton said.
Consumer confidence and attractive deals on finance are helping new car sales in the UK and keeping it well ahead of markets on the Continent, he said.
Copyright Press Association 2013