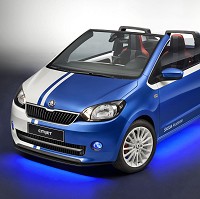 A team of Skoda apprentices have created their dream car by slicing the roof off a Citigo and turning it into an open-top city car.
The 16 young designers were asked to come up with a new car using any model from the current Skoda range. They chose a Citigo Sport, removed the roof, added under-chassis neon lights and striped seats, swapped the back seating for hoops as roll protection and fitted a spoiler.
It is unclear what drivers of the CitiJet will do if it starts to rain as it has no roof to raise.
The blue and black, 16-inch wheel and twin-exhaust CitiJet design will be on show at the Worthersee Festival in Austria next week.
The apprentices made sure their concept was fitted with a 300-Watt music system and added LED lights that react to the music.
It shows the imagination and creative skills of Skoda's latest generation of workers, according to Bohdan Wojnar, the firm's board member for human resources.
Its head of auto design, Jozef Kaban, said the Citijet has been a labour of love for the apprentices and they should be proud of the unique design they have come up with.
Copyright Press Association 2014