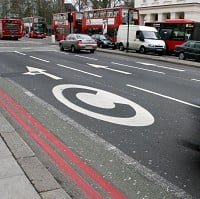 An "under-used" text messaging service could be dropped in favour of a smartphone app as a way for drivers to pay for the London congestion charge, Transport for London (TfL) has revealed.
With the SMS payments service accounting for just 400 out of the 130,000 congestion charge payments made each day, TfL is pushing for an app which would allow drivers to pay up quickly and simply, as well as providing a convenient means of carrying out basic checks on charge balances and account expiry dates.
The authority is launching a six-week consultation on the matter ending on September 12, after which a report with go to the Mayor of London, Boris Johnson.
TfL has also signalled its intention to stop accepting payments from unofficial sources such as copycat websites, some of which are known to have bumped up the charge by as much as £8 on top of the normal tariff.
Some motorists have complained about such services after finding out they had not actually paid the charge, and faced a penalty.
The transport authority is working with search engines such as Google to make sure that no misleading ads on congestion charge payments appear. They are also urging people to make sure they use the official TfL website to make payments.
Surface transport chief Garrett Emmerson said TfL is striving to protect customers from "unofficial third party websites", which charge rip-off prices for services which are never received.
The charge is £11.50 per day for a vehicle driving in the charging zone from 7am-6pm, Monday to Friday.
Copyright Press Association 2014