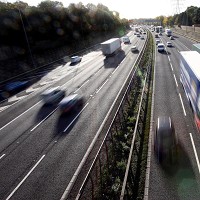 New powers to tackle anti-social driving are now all set to come into force across the country.
Fixed penalty notices to the tune of £100 will now be dished out on the spot to motorists who hog the middle lane, cut up other drivers or tailgate.
Offenders will also get three points on their licence for careless driving, something which could result in highercar insurance premiums in the future.
Fines for existing offences, such as using a hand-held mobile, have increased to £100, while drivers who perform stunts like handbrake turns will face similar punishments. It is all part of a package to tackle anti-social behaviour on the roads.
"Careless driving puts innocent people's lives at risk" said road safety minister Stephen Hammond. "That is why we are making it easier for the police to tackle problem drivers by allowing them to immediately issue a fixed penalty notice for low level offending rather than taking these offenders to court."
A recent poll shows that a third of drivers cruise in the middle lane, even though the Highway Code states it should only be used for overtaking.
Copyright Press Association 2013