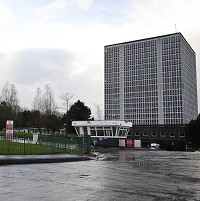 More than 500 jobs could be under threat in Northern Ireland because of Government plans to centralise the vehicle licensing service, according to a politician.
It is thought that the Driver and Vehicle Agency (DVA) in Coleraine could close, with the positions moved to Wales, but Northern Ireland's environment department has held talks with the Department of Transport in London to keep the operation in the country.
Speaking in the Northern Ireland Assembly, SDLP MLA John Dallat said the move would affect 300 Coleraine workers and another 240 people working elsewhere whose jobs rely on the department's spending power.
Coleraine already has a considerable unemployment problem, Mr Dallat pointed out.
The Department of Transport first outlined plans to close the 39 regional DVLA offices and bring them together in Swansea in December 2011.
It said the move would modernise the service with more use of the internet and save a considerable amount of money.
Drivers have to prove they have car insurance and their vehicle has passed an MoT test before they can pay their tax.
A recent poll suggested that just one in 10 in Northern Ireland would consider doing it online and most preferred the existing processes, Mr Dallat revealed.
Copyright Press Association 2013