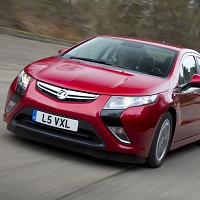 The world's top triathletes will follow in the tracks of the new Vauxhall Ampera when the Grand Final of this year's ITU World Triathlon Series comes to London in September.
Vauxhall has been appointed the official vehicle supplier of the event and is also one of the main sponsors of the triathlon series. Its Ampera will drive ahead of the elite competitors when they tackle the running and cycling disciplines during the event from 11-15 September.
The comfortable and environmentally-friendly Ampera vehicles will also carry dignitaries and VIPs around the course. It is fitting that it should be chosen for the event in London as the Ampera is one of few vehicles that are exempt from the Congestion Charge and the capital has plenty of charging points to make sure the electric car is fully charged and does notbreakdown .
Vauxhall/Opel CEO and keen marathon runner Karl-Thomas Neumann believes the Ampera matches the ambition, perfection and versatility shown by the triathletes. He said he is pleased that Vauxhall is supporting the fast-growing sport and its ultra-low emission electric car is playing an important part in the series.
Copyright Press Association 2013