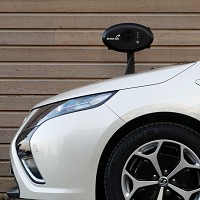 Vauxhall's Ampera has claimed the latest in a long list of prizes at a prestigious awards ceremony.
The extended range electric vehicle picked up the Green Vehicle of the Year prize at the 2012 Association of Car Fleet Operators (ACFO) awards.
The ACFO awards are voted for by members and so take account of the expertise of fleet decision makers.
This is not the first award for the Ampera which has claimed more than 40 prizes so far.
Previous awards include What Car? Green Car of the Year, Top Gear magazine's Green Car of the Year and it is also the current European Car of the Year.
And thanks to its green status drivers could also benefit from competitive car insurance rates too.
Julie Jenner, ACFO chairman, said: "Fleet decision-makers are reliant on motor manufacturers to deliver vehicles that are cost-effective to operate, safe, reliable and environmentally-friendly and supplier companies to provide a first class service.
"The Ampera's revolutionary technology was clearly very popular with our ACFO members and on their behalf I congratulate Vauxhall in bringing such a cutting edge vehicle to market."
Maurice Howkins, Vauxhall's fleet sales customer relationship Ddirector, said: "We are delighted that the Ampera has won the Green Vehicle of the Year.
"It's great news for Vauxhall that the revolutionary Ampera and its cutting edge technology have been recognised by the ACFO."
Copyright Press Association 2012