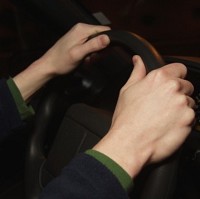 A women has been charged with careless driving after crashing her car into a house while 'getting amorous' with her boyfriend.
Asia Walker's motor, a 2007 Hyundai, ploughed through two rooms of an unoccupied house near Daytona Beach, Florida.
The incident took place at 5.30am on Friday, destroying both rooms and causing a window in another part of the property to shatter.
"I was scared that the car was going to explode, I called 911," neighbour Marvin Johnson told local TV. "It sounded like someone was breaking into my house."
Mr Johnson had been keeping an eye on the house for the family of the owner, since the owner's death in August.
Walker, 30, of Palm Coast, was driving down Continental Drive near Daytona Beach with her boyfriend Charles Phillips.
Sgt Kim Montes, spokesman for Florida Highway Patrol, said: "She told the investigating trooper that she and her boyfriend in the car were getting a little amorous.
"The trooper suspects that's probably why she lost control of the vehicle."
Sgt Montes reminded drivers to stay focussed behind the wheel to ensure something like this doesn't happen, as a crash that is your fault can seriously harm your car insurance policy.
Copyright Press Association 2013