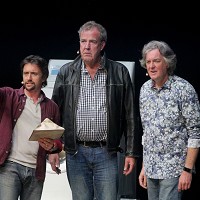 The boss of online giant Amazon has admitted that signing Jeremy Clarkson and his Top Gear co-stars was "very expensive".
Founder and chief executive Jeff Bezos has secured a deal for Clarkson, James May and Richard Hammond to present a new online motoring show for customers of video streaming service Amazon Prime.
Clarkson's contract with the BBC was not renewed after a bust-up in the Yorkshire Dales earlier in the year.
The fallout from the incident prompted the Top Gear trio to seek new ventures elsewhere.
Mr Bezos did not reveal how much the Amazon deal is worth, but in an interview with the Sunday Telegraph's business supplement he said the three stars are worth a lot of money and "they know it".
He added that as recently as five years ago it was extremely rare to be able to get A-list talent to do TV serials, but in this "golden age" of television that scenario has been flipped on its head entirely and there is some "amazing" TV around at the moment.
The first series of the new motoring show, which does not yet have a name, is due to be broadcast next year.
Copyright Press Association 2015