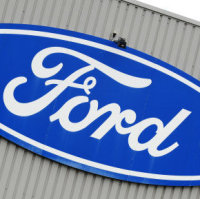 Sales of alternatively-fuelled cars have soared over the last year, new industry figures show.
Meanwhile, the Ford Fiesta remains the country's biggest selling car, according to the Society of Motor Manufacturers & Traders (SMMT).
The society's figures show that more than 6,350 electric and other alternatively-fuelled vehicles were registered in April.
That represents an increase of nearly 27% compared to the same month in 2015. And it means that the sector now has a market share of 3.4% - up from 2.7% a year ago.
So far this year, a total of just over 32,000 alternatively-fuelled vehicles have been registered in the UK, a jump of more than 24% compared to the first four months of 2015.
April saw petrol car sales increase by 3.4% while those of diesel vehicles dropped by 0.6%.
The SMMT figures also show that the Ford Fiesta is still Britain's best selling car. More than 7,900 Fiestas were registered in April, meaning nearly 44,250 have been bought so far this year.
The Volkswagen Golf and Ford Focus were April's second and third biggest sellers respectively, both notching up sales of more than 5,500.