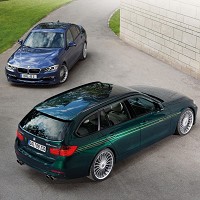 BMW tuning specialist Alpina has unveiled what it is calling 'the fastest diesel production car in the world'.
The Alpina D3 Bi-Turbo is a heavily modified version of a BMW 3 Series, capable of hitting 173mph at full throttle.
It took two years to develop, with Alpina making slight modifications here and there while also adding bespoke components to satisfy higher standards of engineering and materials.
The end product is something of a masterpiece.
Not only can the D3 catapult its occupants to 62mph in just 4.6 seconds, it is also capable of 53.2mpg, and boasts CO2 emissions of 139g/km.
A total of 346bhp and 516lb.ft of torque is squeezed out of the modified version of the standard car's six-cylinder diesel engine.
The D3 is primarily aimed at business users, for whom running a performance car can be extremely expensive in terms of tax liability
A higher-rate taxpayer would pay £344.66 per month - little over half what a petrol-powered car with similar performance would cost.
Such savings can be put towards other motoring necessities like car insurance and breakdown cover .
Copyright Press Association 2013