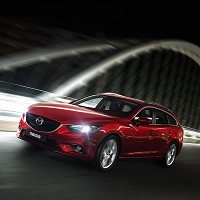 The all-new Mazda6 looks set to give its rivals a run for their money when it is released at the beginning of next year.
The Mazda6, which will hit showrooms in the UK in January 2013 in saloon and tourer body styles, should be a good investment for the future, according to vehicle information provider CAP.
The updated model is expected to retain 7.5% more of its value after three years/60,000 miles than the outgoing model, CAP said.
The Mazda6 petrol-engined saloon range is forecast to keep 31.8% of its value, the petrol-engined tourer 33%, the diesel-engined saloon 31.6% and the diesel-engined tourer 32.7%.
That puts the new Mazda6 well ahead of the competition when it comes to resale value, with the Vauxhall Insignia averaging 23%, the Ford Mondeo 28%, Volkswagen Passat 29% and the Honda Accord 30%.
Mazda forecasts that its biggest fleet seller in the range will be the 2.2-litre 150ps Skyactiv-D Saloon SE-L Nav, which retails at £23,140, but CAP forecast will be saleable for £7,475 after three years.
All new Mazda vehicles come with a three-year/60,000-mile warranty, althoughbreakdown cover is still required to cover drivers in the event of an emergency.
Copyright Press Association 2012