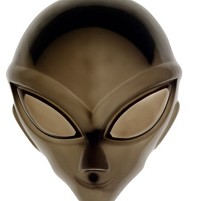 A give way sign in Devon has been vandalised for a second time, this time having a picture of an alien painted on it.
The road sign near the village of Chawleigh previously had a dinosaur drawn on it but that has now been replaced by the portrait of an extraterrestrial and the local authority is treating it as criminal damage.
Devon County Council described it as "illegal" but local residents said drivers were unlikely to actually need to call out breakdown cover because their car has been abducted by aliens and that the picture simply entertained people.
"We've loved them both and it just gives us a bit of happiness and hilarity in the local area," said one.
"We don't think we've got aliens, we don't think we've got dinosaurs but you never know."
The identity of the road sign artist is unknown but the council has confirmed that the image will be removed in the "next routine inspection of the area" and warned people that it is a serious matter.
"This is an illegal sign that has been put up as some sort of joke," it stated.
"However, can we remind people that this constitutes criminal damage and can be off-putting for motorists driving along the road."
Copyright Press Association 2012