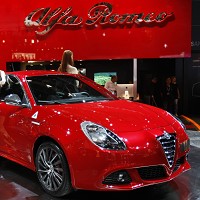 A woman from Falkirk has bought a brand new Alfa Romeo Giulietta for the price that the original model sold for back in 1954.
Alfa Romeo UK slashed the price of the car for Mrs Mitchell after she won a prize draw to celebrate the 60th anniversary of the classic model.
The first ever Alfa Romeo Giulietta Sprint made its public debut at the Turin Motor Show on April 19, 1954. It was sold that year for an on-the-road price of £1,250.
All customers who ordered the latest edition of the car during an event to celebrate the anniversary were entered into a competition to have the difference between the 1954 and 2014 versions refunded on their purchase.
Alfa Romeo UK's head of brand, Ivan Gibson, said the company is "incredibly proud" of the vehicle, which epitomised the style of the era in which it was launched.
Copyright Press Association 2014