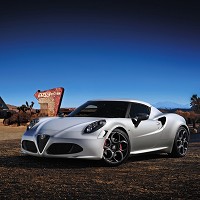 The impressive Alfa Romeo 4C is set to be released as a special edition, with only 400 cars destined for Europe, from 1,000 available globally.
While the model has been unveiled at a press preview, the Launch Edition version has not been seen until now. Made only in white, the limited edition sports car will be priced at £52,000, excluding registration fee, delivery and road tax.
The lightweight car, which has 'just' 236bhp from a turbocharged 1750cc four-cylinder engine, has a weight of just 895kg dry, allowing it to go from 0-62mph in under five seconds, with a maximum speed of around 155mph. The energy is shifted to the back wheels by way of a dual-clutch TCT transmission with paddle-shifters.
One of the reasons behind the vehicle's surprising lightness is the carbon fibre monocoque chassis, which weighs only 65kg even though it represents the shell of the whole vehicle. It provides 'excellent' resistance and gives a weight balance of 60% towards the rear.
The 4C has great potential, and Alfa claims it may be the answer to reclaiming the US market. Of the 1,000 Launch Edition cars, half will be destined for North America.
Copyright Press Association 2013