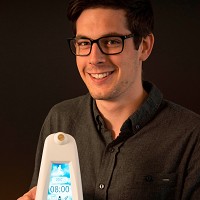 A design student has developed a futuristic alarm clock aimed at encouraging low-carbon travel.
The Act Alarm clock receives weather and travel reports via an RSS feed and uses them to calculate the time it would take to get to the user's workplace.
Developed by Samuel Young, a sustainable product design student at the University of Brighton, the clock has a projector which displays data on the ceiling when the alarm is triggered.
It also has a three-day weather report as well as information on how to burn calories and save the amount of money spent on travel.
Designed to make travel easier and less stressful, the clock was designed by Mr Young to encourage people to walk or cycle to work. Rather than setting the alarm for a time to wake up, the clock works out what time to wake depending on what time the user needs to get to work.
If the weather forecast is good, the user will have time to use sustainable transport, to walk or cycle, cutting the their carbon footprint.
Copyright Press Association 2014