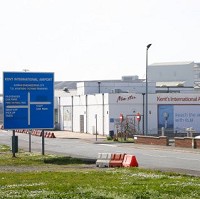 Motorists in Kent plagued by ongoing traffic jams caused by cross-Channel disruption could find an unlikely saviour in a mothballed airport.
Ministers have announced that Manston Airport will be used as a temporary emergency venue for lorries to park up on.
The RAC has welcomed the move which could take up to 2,000 trucks off the M20, but says a permanent solution is still needed.
Lord Ahmad, the Transport Minister, says the Government will continue to seek a long-term answer.
French industrial action and migrant activity has disrupted Cross-Channel ferry and train routes for weeks. HGVs are currently being "stacked" on the M20's closed stretch while non-lorry traffic gets re-routed onto adjacent roads.
David Bizley, chief engineer for RAC, said: "The Government is to be congratulated at being creative and coming up with an option that will hopefully benefit the majority of those impacted by Stack, both users of the motorway and local residents and business trying to go about their daily lives.
"Anything that gets the lorries off the road is clearly good news for motorists because if up to 2,000 lorries are at Manston they are not blocking up the M20.
"However, the road from Manston to Dover is not a good one and it will disrupt other traffic trying to use these roads so let's hope a permanent solution can be found before too long."
Meanwhile, well over 3,000 lorry drivers have been fined for harbouring illegal immigrants in just one year, according to official new figures.
The Home Office numbers show that the amount of fines has risen more than threefold, to 3,319 truckers in 2014/15, compared to 998 only two years earlier.
These offences carry a maximum fine of £2,000 for each stowaway smuggled away on their lorry at the Eurotunnel or any port in Britain.
Only around one in 14 of those drivers fined are from the UK. But overall, one in three trucks have been found vulnerable to stowaways when they hit Britain's border.
The Press Association-obtained figures find that a minimum of 6,494 illegal immigrants have been discovered. The real figure is expected to be much higher, however.
Copyright Press Association 2015