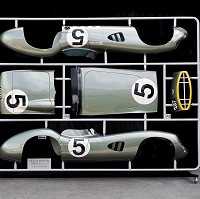 A British firm has constructed a life-size model of an Aston Martin DBR1 in the style of an Airfix model kit.
The Evanta Motor Company did not initially seek Airfix's blessing, but the result has been lauded by the management of the model manufacturer. The model, which is over three metres tall and six metres wide, will be auctioned at theGoodwood Revival this weekend.
Airfix's Marketing Manager, Darrell Burge, said: "As well as being a fitting homage to the classic 1959 Le Mans winning car it is also a celebration of British engineering and ingenuity, marrying the Airfix design with the car."
Burge also heralded the Evanta Motor Company's creativity and painstaking attention to detail.
The model will be on display at the Goodwood Revival before being auctioned by Bonhams. Interested parties may be glad that it is able to separate in to two smaller pieces for ease of transportation, but the guide price of £25,000 may deter a few.
Copyright Press Association 2012