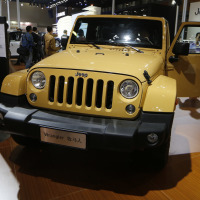 Nearly half a million Jeep Wrangler SUVs are being recalled over airbag safety concerns, Fiat Chrysler has announced.
Meanwhile, the same manufacturer is recalling more than 80,000 Fiat 500 cars because of a potential clutch problem.
Fiat Chrysler says it is not aware of any accidents or injuries related to the issues with either vehicle.
Outside North America, the recalls are said to affect more than 62,500 Jeep Wranglers and over 26,000 Fiat 500 subcompact cars.
It has not yet been revealed how many UK motorists are affected.
Fiat Chrysler says the Wrangler Jeep recall relates to fears that the vehicle's driver-side air bag may not deploy in a crash if it has been extensively driven off-road or with its top or doors removed.
The potential problem, it adds, is related to a clockspring - located in the SUV's steering wheel - that forms part of the circuit helping to control airbag function.
Almost 499,000 Wranglers are being recalled, more than 392,000 of them in the US.
The Fiat 500 recall relates to cars made between 2012 and 2016.
Copyright Press Association 2016. Motoring News articles do not reflect the RAC's views unless clearly stated.