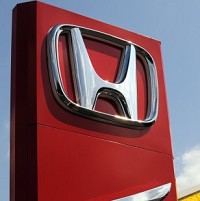 An airbag defect has forced two Japanese car manufacturers to recall almost three million extra vehicles globally, it has been revealed.
A defective part on passenger airbags - which it is feared could cause the devices to deploy "abnormally" in the event of an accident - has already resulted in several manufacturers including Nissan, Honda and Toyota recalling more than four million vehicles last year.
According to Nissan and Honda the problem has not caused any injuries or accidents. But Honda has announced it is now recalling another two million vehicles while Nissan says it is calling back a further 755,000.
The 16 Nissan models affected around the world include the Terrano, Sylphy and Cube while Honda's recall affects more than a dozen models including the Civic, CRV, Fit and Stream.
Toyota, which says it has received a report of the defect causing burns to a seat cover, added 650,000 vehicles to its recall list earlier in June.
The defective airbag part was supplied to the carmakers by Takata Corp. It is feared the defect could cause an inflator to rupture and result in airbags not deploying properly in a crash.
Copyright Press Association 2014