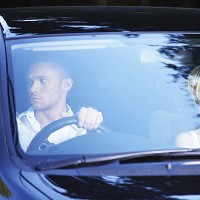 Climate change isn't just dividing politicians and countries but couples in cars too, new research suggests.
Kwik Fit says more than a half of couples (52%) with air conditioning systems in their vehicles voice differing opinions about the right interior temperature.
It seems men are more 'hot under the collar' than women as they tend to prefer cooler conditions and around a quarter of a million motorists say they don't touch air-con switches to avoid arguments.
Nearly two thirds of men (60%) say they prefer cars to be cooler inside than their partner, while just over a third of women (35%) say the same.
Air-con rows are more likely to happen in Yorkshire than any other county in Britain as 61% of couples there fall out over it, according to the poll results. Scottish couples (43%) have the fewest disagreements over temperatures in vehicles, the figures indicate.
Typical car temperatures vary from 16 degrees in the north west of England to 23 degrees in the east of the country, the research shows.
More than a third of motorists (35%) in the south west have to put up with the temperature that comes with the weather, as they have no air conditioning in their cars.
Copyright Press Association 2014