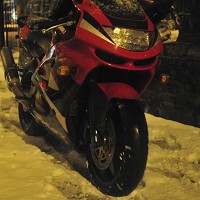 An increase in the number of motorbikes being used during the winter has led an industry association to warn about the increased risk of crashes on hazardous roads.
There are 150,000 more bikes being kept ready for winter use than five years ago, and the Motorcycle Industry Association are warning of the dangers of cold, wet or icy roads to riders - as 8% of all motorbike accidents are caused by poor grip.
The figures represent a drop of a third in the amount of motorcycles being taken off the road, and the association are advising all bikers to be very careful.
Visibility in rain, sleet and fog is another risk and the MCI recommends fluorescent, reflective clothing is worn to help other road users spot a biker. Because colder temperatures can "impair mental function" it advises riders to make sure they're always kitted up correctly for their ride.
MCIA spokeswoman Sheila Rainger said: "Winter riding brings its own unique challenges. Shivering through a wintry shower is the downside, a cold clear mid-day ride the reward.
"In the dark mornings ahead, riders and drivers alike need to be more vigilant for everyone's safety, and to give each other a little extra consideration."
Copyright © Press Association 2009