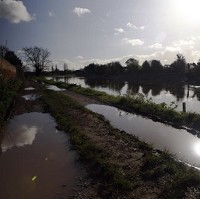 Motorists are being warned once again over the risk of flooding after a river's banks burst in London.
The number of overnight flood warnings issued by Environment Agency (EA) officials in Wales and England has reached 10.
This means that flooding is anticipated and instant action needed, suggesting that drivers should at least double check their breakdown cover is up to date in case of problems on the roads.
The amount of flood alerts totals 65; including 28 in South-Eastern regions and 26 in Anglia.
This means that residents should plan for possible flooding.
Constant rain saw several regions hit by water levels of up to one inch.
South-East London saw the banks of River Ravensbourne's Lewisham stretch burst, sending water onto adjacent roads.
An estimated 21 officers and firefighters helped to pump the deluge away from companies and homes across a 1,800 square-metre area.
Their efforts managed to keep the flood waters away from homes, although one shop was affected.
Copyright Press Association 2014