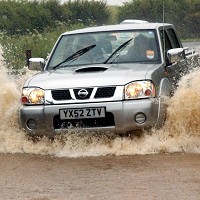 A road safety expert has given motorists tips on how to avoid accidents ahead of the forecast heavy showers.
With thunderstorms and sudden downpours expected across large parts of the country over the weekend, road safety charity the IAM has stepped in to offer advice on how to cope with the conditions.
Britain's top advanced driver, Peter Rodger, said one of the first things motorists should do before setting off is to set the heater controls to prevent the windows instantly steaming up when you set off.
Mr Rodger said it was also a good idea to keep dipped headlights on when it is raining to maximise visibility. He said that whenever you need your window wipers, you also need your headlights. Before attempting an overtaking manoeuvre, always put your wipers on the fastest setting.
The IAM also advises people to maintain full concentration on the road to aid smooth braking. In wet weather, cars take longer to come to a stop, so braking distance should be at least doubled, both to avoid hitting the car in front in case of a sudden reduction in speed, but also to reduce the spray coming off the road.
Cruise control shouldn't be used on wet roads and drivers should also maintain a firm grip on the wheel to make sure they can deal with strong winds and the effect they may have on all road users.
Mr Rodger said the most important thing drivers should remember is to drop their speed to give themselves more time to slow down.
Copyright Press Association 2014